So it has begun! I've finally started collecting Monster High dolls ;A;
I've always wanted to collect them because I love their crazy colored hair. The first few dolls that drew me were
Venus McFlytrap
and
Catrine DeMew
! I thought Venus was really cool because she was green (green is one of my favorite colors) and has a side shaved hair-do! Something I almost never saw in dolls until only recently. And Catrine's color scheme is purple - another of my favorite colors!
But I didn't buy any because I felt I didn't have the money to start a new collection (don't we all?) I was trying to focus only on Sylvanian Families, Zelfs, K-ON anime figures, Gambit and Lalaloopsy Minis back then.. but I guess that doesn't matter anymore; I've already failed a million times over till date lol *slaps self*
Anyway, my first Monster High doll is special because it was given to me as a belated birthday present. So I guess I have to blame my friend for making me start a new collection :<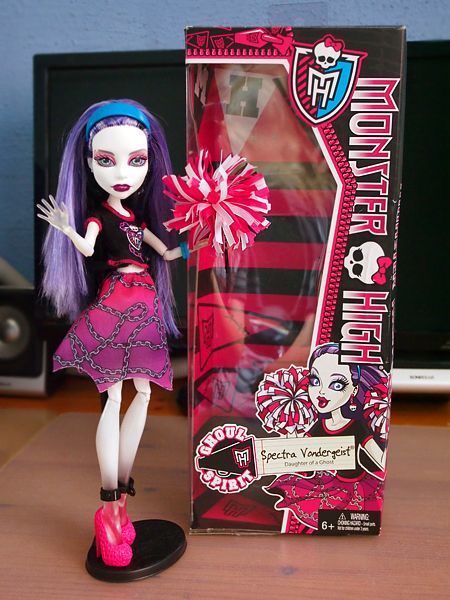 My friend chose Spectra for me because I had purple hair back then. Also, he thought she looked alot like me.
Spectra Vondergeist - Daughter of a Ghost. Poltergeist definitely rang in my head!
I think the doll's face doesn't really look like how Spectra looks in the cartoon..
On to the doll herself:
Her earrings are black unlike those on her box-art. I don't mind it though. But they are abit large in scale. These are removable.
Cute shirt with the Monster High logo and some chains.
Her bracelets are actually the shape of a skull! I'm fascinated with her clear hands. I think they're really cool. However, Spectra only comes with one pom-pom. I was expecting two since she was holding two up in her box art :(
Her hands are removable! I'd be extra careful when removing and putting them back on though, they seem quite fragile.
Her skirt. Chains seem to be Spectra's theme though. I wonder why..
I love her hot pink heels and shackle cuffs. She can't stand on her own though. Also, she doesn't come with a doll stand. I used Ghoul Sports Spectra's stand for this
–
Yes, I've already gotten more Spectra dolls :x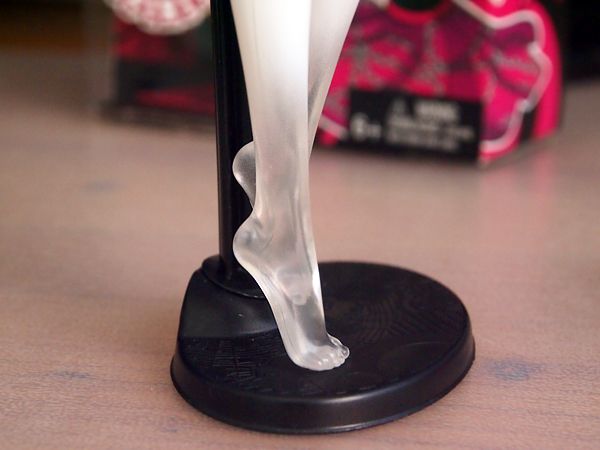 She also has clear feet! I really love this detail of her which makes her look more spirit-like.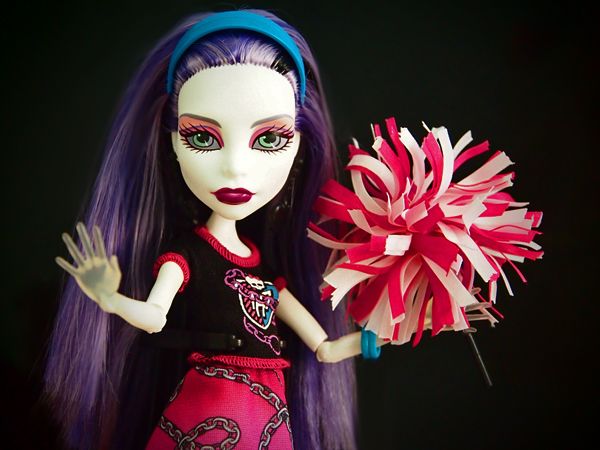 She's boo-tiful!
Gotta love Monster High puns lol! She wasn't really one of the dolls I wanted to collect in the beginning but I love her so much now! I'd want to try doing her make-up on myself one day :)